Motor Oils
Engine Oil - SAE 10W, 30, 40, 50, 15W40, 20W50 (API : CD/SF)
Engine Oil - SAE 30, 40, 50, 15W-40 (API : CF/SF)
Engine Oil - SAE 10W, 30, 40, 50, 15W-40, 20W-50 (API : CF-4/SJ)
Multigrade Engine Oil - SAE - 15W-40 (API : CH-4/SJ)
Multigrade Engine Oils - SAE - 15W-40, 20W-50 (API : CI-4+/SL)
Full Synthetic Engine Oil- SAE : 5W-40 (API : CF/SL)
Part Synthetic Engine Oil - SAE - 10W-40 (API : CF/SL)
Super Tractor Universal Oil - SAE - 15W-40, 20W-50, (API : CF-4/SJ & GL4 - STUO)
Power Motor oil, Delo Gold, Delo Silver, Vection, CRB, Tection, Dieselube, Rimula, HDX, Rubia, Quartz Engen, Castrol, BP. Total, Caltex, Shell, Puma
Extra Durability For Long-Drain Performance. Developed for a wide range of heavy-duty engines, All-Fleet conventional engine oil is a high performance universal mixed fleet oil, recommended for gasoline, LPG and diesel engines. Advanced formulations combat higher levels of contamination and soot created in extended and long drain operation to maintain advanced levels of engine protection and cleanliness.
Valvoline All-Fleet Engine Oil is formulated to provide optimum performance in mixed fleets under severe service demands. Additional product benefits include:
Advanced additive technology reduces oil consumption and component wear
Outstanding protection over long-drain intervals to help reduce life cycle costs.
Superior soot control and corrosion protection.
Compatible with EGR and SCR systems
Also recommended for off-road vehicles, taxicabs, police cars, light trucks, vans and pleasure boats.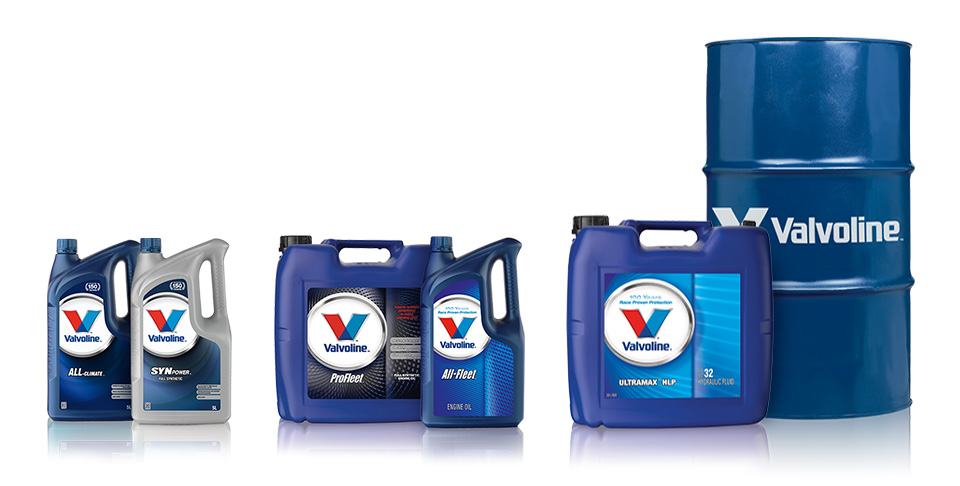 You need a motor oil you can count on. Valvoline™ was made for heavy duty engines 150 years ago. And we've been proving our products on the road and off the road ever since. Our lab is your engine, your garage, your fleet, your worksite. If you have a problem, you better believe it's our problem too. We're ready to prove how we can help protect your equipment and make an impact on your business. Valvoline Heavy Duty...this is how the tough get going.
Valvoline™ Premium Blue™ is The Only One™ exclusively endorsed and recommended by Cummins®. It's designed to provide performance and protection in modern, emissions treatment equipped diesel engines, including those with Exhaust Gas Recirculation (EGR), Diesel Particulate Filters (DPF) and other modern diesel engine technology. By using Valvoline Premium Blue 8600 ES with Cummins X15 engines, customers enable an exclusive oil drain interval extension of 10,000 miles when operating at an average fuel economy of 7.0 mpg or higher. For more severe duty cycles, a 5,000 mile oil drain interval extension is enabled.
Approved or Recommended for applications where Cummins CES 20086, Mack EOS-4.5, Volvo VDS-4.5, Detroit Diesel DFS 93K222, Renault VI RLD-4, Allison TES-439, ACEA E9, ACEA E7, MB 228.31, MTU Category 2.1, Caterpillar ECF-3, or JASO DH-2 are specified
Approved or Recommended for applications where Detroit Diesel DFS 93K218 or Deutz DQC III-10LA are specfied
Excellent oxidation resistance and TBN retention supports long oil life
Strong shear stability provides stay-in-grade performance
Superior deposit protection compared to industry requirements
Tested extensively by Cummins in various engine applications